Back to all posts
Posted on
Who's Got Talent? DDS students!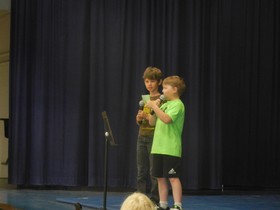 Students, parents and guests were entertained for a full hour while DDS students shared their many talents on stage and around the gym! The talents shared included singing, skipping, reading, dancing, playing the piano, joke telling, tumbling and more - to - Lego displays, card collections, rock collections, drawings, paintings and more!
Congratulations to all those who participated and thanks for having the courage to step on stage and do so well!