Back to all posts
Posted on
Dec. 1 Mini volleyball tournament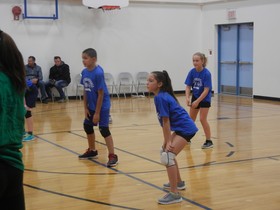 Our mini volleyball season wrapped up with a four team tournament at Dorothy Dalgliesh School on December 1. The players were awesome and showed so much improvement and good sportsmanship.
A big THANK YOU to Mr. Van Dyk for organizing the league and all his hard work and dedication.
A big THANK YOU to our teacher coaches, Mrs.  Boras, Miss Clarke-Davies and Ms. Rogerson.
A big THANK YOU to our student coaches from PBHS - they were excellent and we appreciate all their help!
We would also like to say THANK YOU to our volunteers who ran the concession, Amanda and Ellie. The spectators love a concession and it is a great fundraiser for the Grade 6 class. Thank you.