Back to all posts
Posted on
Dorothy Dalgliesh School wraps up the week with our Christmas Concert, Sock Hop, Community Christmas Delivery and a great Christmas dinner for the staff and students.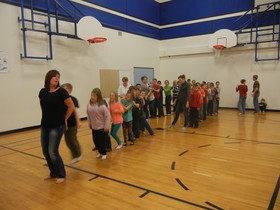 After presenting the best Christmas Concert ever we just kept on rocking onto Wednesday with a Sock Hop in the gym. Thanks to everyone for donating socks to the annual Sock It To 'Em campaign. With your help we donated over 110 pairs of socks to help make someone's Christmas a little bit warmer!
Thursday morning Dorothy Dalgliesh School shared some Christmas wishes with our community by visiting residents home and leaving a "little something" on their doorknobs. Merry Christmas from Dorothy Dalgliesh!
At noon a hot turkey dinner with all the trimmings was served to all students and staff at Dorothy Dalgliesh School. It was delicious and everyone loved it! Thanks to our School Council mom's and all those who volunteered by helping in the kitchen and donating food items.