Back to all posts
Posted on
Sigmund Brouwer in the DDS House!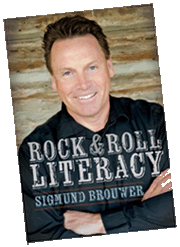 We are so excited to have Sigmund Brouwer joining us on Tues., Oct. 27. He is an Albertan author who has written some pretty cool books for kids. Check out his website here:
Also watch this video called Rock the Boat
https://www.youtube.com/watch?v=-LVGEPAj9Kc
Biography:
Sigmund Brouwer was born and raised in Red Deer, Alberta, and he and his family split their time between Red Deer and the Nashville, TN area.
With over four million books in print, Sigmund Brouwer is a bestselling author of both children and adults books. His recent novel, Dead Man's Switch, is the winner of the 2015 Arthur Ellis Award for Canada's best young adult mystery of the year and a 2015 finalist in the TD Children's Book Awards. His current novel for grownups, Thief of Glory was selected as the 2015 Book of the Year for the American Christy Awards and is the 2015 winner of the Alberta's Readers Choice Awards.